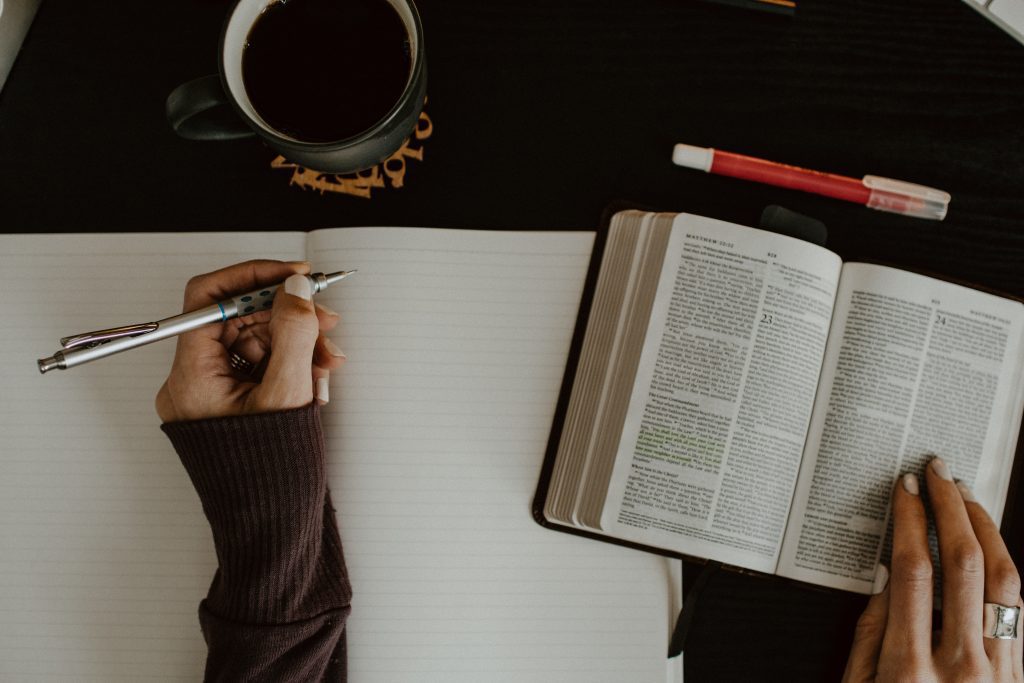 Are you a new Christian who wants to grow closer to the Lord or a seasoned one that want to grow more in your relationship with the Lord? Here are a few keys to help in your endeavors.
Grow Closer to the Lord by Studying His Word
How long has it been since you sat down with a "Good Book"? All of us have moments of reading through a chapter quickly because of a lengthy to-do list. But those quick glances are not as beneficial.
"I have chosen the way of faithfulness; I have set my heart on your laws." Psalm 119:30 NIV
Chapter 119 of Psalms is a wonderful chapter to read and study because it is so rich in the blessings of God's Word. The psalmist chose his path to be faithful to God and meditate on His Word. He knows that this practice will help him to draw closer to the Lord.
Memorizing scripture is another way to meditate on His Word. As you begin to memorize, it's a good idea to read over the words several times to become familiar with what is being said. This gives time to meditate as you memorize. Commiting verses to heart means always having the Bible handy for encouragement.
Grow Closer by Reading God's Promises
"And by faith even Sarah, who was past childbearing age, was enabled to bear children because she had considered Him faithful who had made the promise." Hebrews 11:11 NIV
Sounds simple enough, yet Abraham is 100 years old and Sarah, around 90 when Isaac is born. These days a youthful age of 40 is considered old to bear a child. Abraham did not receive a magic elixir to keep him youthful. Imagine your great grandmother telling everyone that she is expecting?
Abraham and Sarah chose to believe God. They knew that in spite of the condition of their bodies that He would do exactly as He promised.
"Now the Lord was gracious to Sarah as He had said, and the Lord did for Sarah what He had promised. Sarah became pregnant and bore a son to Abraham in his old age, at the very time God had promised him." Genesis 21:1-2 NIV
This is only one of the many instances of God fulfilling His promise in His Word. The most important being the promise of sending His Son to die in our place. Jesus is the fulfillment of this promise.
God always does what He says He will do. Look at the different promises in the Bible and their fulfillment. Trust what He says is true and it will help draw you closer to the Lord.
Depend on God for Direction
"Trust in the Lord with all your heart and lean not on your own understanding; in all your ways submit to Him, and He will make your paths straight." Proverbs 3:5-6 NIV
The first step in this verse is trust, or have faith. Next, commit and leave your own speculations out of it. Submit to His decision and the result is a straight path.
It's harder to grow closer when there is no communication. God wants to hear from us about what is going on in our lives. The decisions are a lot easier when consulting the Lord about them.
"You make known to me the path of life; You will fill me with joy in Your presence, with eternal pleasures at Your right hand." Psalm 16:11 NIV
Grow closer to the Lord by Application of His Word
What if you decided to play tennis and need guidance. Would you take a round of lessons from a pro and never put any of it into practice? It would not make you any better of a player than someone who hadn't taken lessons.
"Do not merely listen to the Word, and deceive yourselves. Do what it says." James 1:22 NIV
Talking about what the scripture says and not applying it isn't effective. It's easy to get caught in the do's and don't of God's Word and forget it's meant for us. The Bible wasn't written to be only good literature. When we obey what God wants us to do, it will create joy in our life.
Stand Firm to Grow Closer to the Lord
There are so many opinions about God, that its likely to be approached by someone who thinks differently. Knowing what you believe can help in standing firm when one tries to influence in the wrong direction.
"Be on your guard, stand firm in the faith; be courageous; be strong." 1 Corinthians 16:13 NIV
Paul is talking to the Corinthians, possibly referring to the previous chapter about those who were questioning the resurrection of Jesus Christ. Bibleref.com He encourages them to stay strong in what they believe and not to be influenced by error.
Grow Closer to the Lord by Witnessing to Others
"But in your hearts revere Christ as Lord. Always be prepared to give an answer to everyone who asks you to give the reason for the hope that you have. But do this with gentleness and respect," 1 Peter 3:15 NIV
Ever had anyone ask about your faith? It can be daunting and even a little uncomfortable, especially if you are new to it. The blessing received will make it all worthwhile and in time you will be glad when someone asks. Our strength comes from the Lord and He will enable us to say what is needed.
What better way to grow closer to the Lord than to witness about the object of our faith, Jesus Christ. Others will see your relationship with Him and this can encourage them to accept Jesus for their salvation.
Worship with Others
"Let the message of Christ dwell among you richly as you teach and admonish one another with all wisdom, through psalms, hymns, and songs from the Spirit, singing to God with gratitude in your hearts." Colossians 3:16 NIV
The Lord intends for us to meet with other Christians because it is an encouragement to be among them. The Holy Spirit is there where two or more are gathered in His name.
In the verse above, we are told to let Christ's message enrich us as we worship together. We ponder on what God is saying to us as a group and are able to encourage each other through God's teaching and songs of praise. The voices of Christians in unison as we honor our God creates a melody that is found no where else. Don't be deceived, worshipping together is vital to the Christian life and growing closer to Jesus.
Summary
Growing closer to the Lord is just like any other relationship. It's getting to know the other person, their likes and dislikes. In this case, the Lord knows best and we can count on that.
Each of the keys mentioned are a form of seeking God and obeying the priniciples in His Word. Obeying the Lord is always the path to grow closer to Him.
If you have any questions to help in this discussion, please comment.