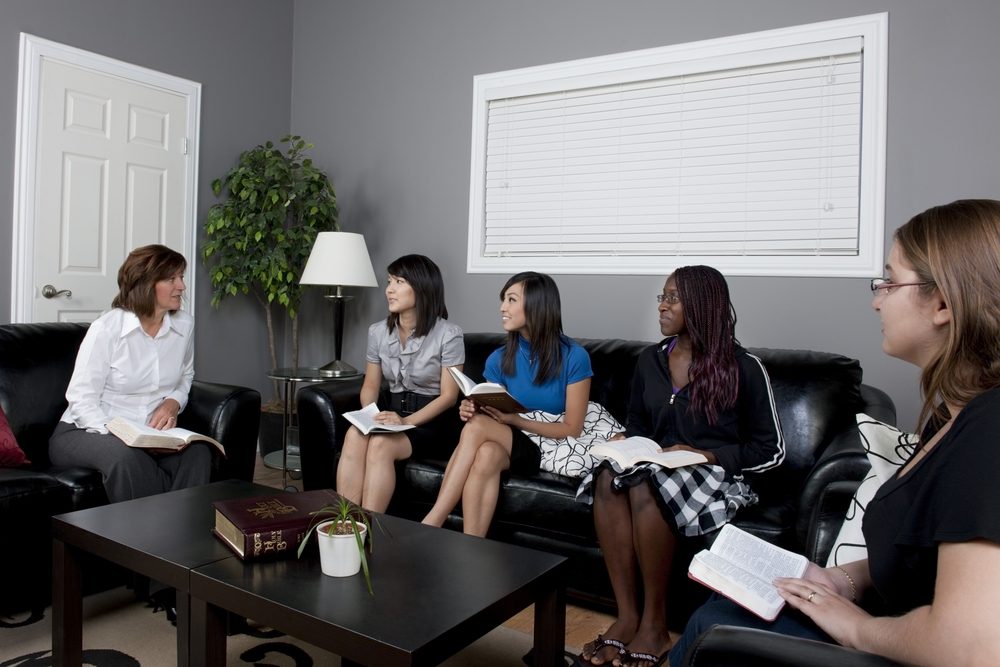 Definition of Fellowship
The Greek form of fellowship is the word, "koinonia". Definition of koinonia 1: the Christian fellowship or body of believers. 2: intimate spiritual communion and participative sharing in a common religious commitment and spiritual community; the koinonia of the disciples with each other and with their Lord. Webster's Dictioary. Fellowship of believers is a key to spiritual growth.
Importance of Fellowship with Believers in Spiritual Growth
"And let us consider how we may spur one another on toward love and good deeds, not giving up meeting together, as some are in the habit of doing, but encouraging one another—and all the more as you see the Day approaching" Hebrews 10:24-25 NIV.
Fellowshiping with other believers is more than a social gathering. In verse 24 of the passage above, we are told that meeting together encourages us to to be committed in love and good deeds. These areas of spiritual growth are essential in following Jesus.
"Not giving up meeting together" emphasizes the need of this kind of fellowship. It also creates a learning experience we all need.
What is the Purpose of Fellowship?
"But if we walk in the light, as He is in the light, we have fellowship with one another, and the blood of Jesus, his Son, purifies us from all sin" 1 John 1:7 NIV.
When we are walking with Jesus Christ, our path is bathed in His light. One of the conseqences of the light is that we fellowship with others. We are blessed by spending time with other believers.
The second consequence of walking in the light is that we are purified from our sins. Depending on the Lord prompts us to confess our sin and restores our relationship with Him. This helps in fellowshiping with others.
Where in the Bible Does it Talk About Fellowship with Other Believers?
"They devoted themselves to the apostles' teaching and to fellowship, to the breaking of bread and to prayer. Acts 2:42 NIV.
There are several places in scripture that talk about Christians fellowshiping together. This was a time when Christians banded together especially because of the persecution. They ate together, prayed together and shared what they had with those who had nothing.
These events are recorded for a reason so we can know what real fellowship is. They are our example the Lord wants us to follow.
What are Types of Fellowship in the Bible?
The Bible speaks of several types of fellowship in the Bible that aid in spiritual growth. Listed below are seven.
Fellowship of the Gospel– Philippians 1:3-5 NIV: I thank my God every time I remember you. In all my prayers for all of you, I always pray with joy because of your partnership in the gospel from the first day until now,
Fellowship of the Body of Believers- Acts 2:42 NIV: they devoted themselves to the apostles' teaching and to fellowship, to the breaking of bread and to prayer.
Fellowship of the Spirit– Philippians 2:1-2 NIV: Therefore if you have any encouragement from being united with Christ, if any comfort from his love, if any common sharing in the Spirit, if any tenderness and compassion, then make my joy complete by being like-minded, having the same love, being one in spirit and of one mind.
Fellowship of the Son– 1 Corinthians 1:9: God is faithful, who has called you into fellowship with his Son, Jesus Christ our Lord.
Fellowship of the Father- 1 John 1:3 NIV: We proclaim to you what we have seen and heard, so that you also may have fellowship with us. And our fellowship is with the Father and with his Son, Jesus Christ.
Fellowship of His Suffering– Philippians 3:10 NIV: I want to know Christ—yes, to know the power of his resurrection and participation in his sufferings, becoming like him in his death,
Fellowship of the Mystery– Ephesians 3:8-11 NIV: Although I am less than the least of all the Lord's people, this grace was given me: to preach to the Gentiles the boundless riches of Christ, and to make plain to everyone the administration of this mystery, which for ages past was kept hidden in God, who created all things. His intent was that now, through the church, the manifold wisdom of God should be made known to the rulers and authorities in the heavenly realms, according to his eternal purpose that he accomplished in Christ Jesus our Lord. Deeper Christian (The mystery is Paul going to the Gentiles with the Gospel.)
What are Some Characteristics of Fellowship?
Unity
"I appeal to you, brothers and sisters, in the name of our Lord Jesus Christ, that all of you agree with one another in what you say and that there be no divisions among you, but that you be perfectly united in mind and thought" 1 Corinthians 1:10 NIV.
A very important characteristic of fellowship is unity. If we can't choose to get along, where is our faith in Jesus Christ? When we are depending on the Lord, we will want to show the love of Christ.
Love of God
"May the grace of the Lord Jesus Christ, and the love of God, and the fellowship of the Holy Spirit be with you all" 2 Corinthians 13:14 NIV.
As Christians our aim to show others the love of Christ and that it makes a difference in our lives. Our fellowship should be an example to people around us so that they can see Jesus Christ.
Encouragement
"Therefore encourage one another and build each other up, just as in fact you are doing" 1 Thessalonians 5:11 NIV.
Everyone needs encouragement, especially Christians. Living a Christian life is not easy. When we come along side someone who needs support, it can make all the difference in how they handle their life. We need reminders of God's love and what better way than to receive that encouragement from another Christian.
Sharing
"All the believers were together and had everything in common. They sold property and possessions to give to anyone who had need. Every day they continued to meet together in the temple courts. They broke bread in their homes and ate together with glad and sincere hearts, praising God and enjoying the favor of all the people. And the Lord added to their number daily those who were being saved" Acts 2:44-47 NIV.
The Christians at this time were going through extreme persecution. There were many needs among them. Those who were better off shared what they had with those who were lacking. As the first verse says, "they had everything in common" and that was Jesus Christ. What better example of the love of Christ.
What is the State of Our Modern Day Fellowship?
As we look at the example of early Christians, can we see any similarities with Christians today? Fellowshiping with others has to have a vital role in spiritual growth.
All the traits of walking with Jesus Christ are exemplified in getting along with others. Yes, some of the churches in early days had problems being unified. In the Corinthian church, we see problems that Paul has to address. What happened? They began to pull in different directions instead of sticking close to the ways of Christ, they were running under their own steam. We need to stay close to Christ and build our fellowship in Him.
If you have any questions, feel free to comment.