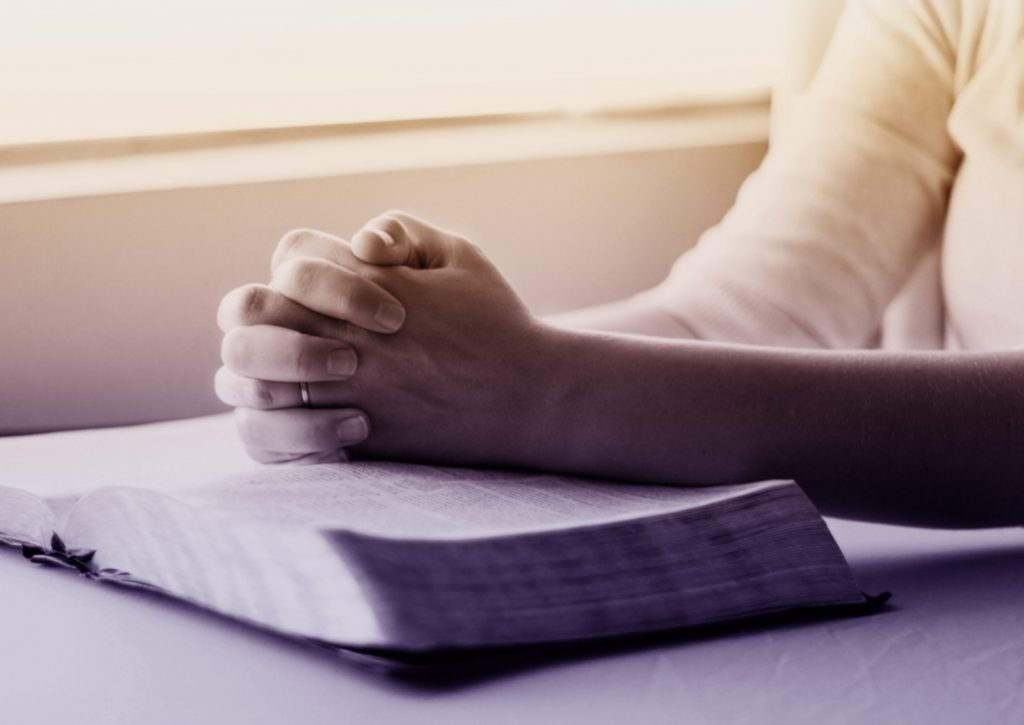 Spiritual growth in the Christian life is getting closer to the Lord Jesus Christ. Once we have accepted Jesus as our savior, we begin to want to move forward in our relationship. The second of 8 keys to spiritual growth is prayer.
We are sometimes timid about praying, but the Lord wants us to just talk to Him like we do normally. When we are emptying our hearts it will become second nature.
Why is Prayer important?
"Rejoice always, pray continually, give thanks in all circumstances; for this is God's will for you in Christ Jesus." 1 Thessalonians 5:16-18 NIV
There are three things Paul mentions in this verse that are God's will for His people. Rejoice, pray and give thanks in all circumstances. Prayer is important because God wants us to do it, He desires to communicate with us. It is part of His will for our lives and we want to be a part of that will.
He wants us to pray continually. This does not mean we have to be on our knees every minute but to keep an attitude of prayer throughout the day. It helps us to depend on Him and grow spiritually.
God Wants Us Express Our Need to Him in Prayer for Spiritual Growth
"Ask and it will be given to you; seek and you will find; knock and the door will be opened to you. For everyone who asks receives; the one who seeks finds; and to the one who knocks, the door will be opened." Matthew 7:7-8 NIV
Who else is so willing to patiently hears our needs and answer them? He wants us to ask Him, knock and the door is opened. He loves His children so much and wants their joy.
We often feel like God doesn't want to be bothered, He is too big to be concerned about us. Not true. He wants the best for all of His children.
"And we know that in all things God works for the good of those who love him, who have been called according to his purpose". Romans 8:28 NIV
We Need Our Prayer to be in God's Will
"This is the confidence we have in approaching God: that if we ask anything according to his will, he hears us." 1 John 5:14 NIV
God does want to hear our prayer but we need to be careful not to ask for requests that are not in His will.
How do we know? First, the Bible is full of reasons not to go to God for. If our attitude is not what it should be, thats a good reason to confess it before we make our request.
We can have the confidence that He hears us when we are in His will. Studying the Bible helps us to discern His will.
We are to Pray in Jesus' Name
"And I will do whatever you ask in my name, so that the Father may be glorified in the Son. You may ask me for anything in my name, and I will do it." John 14:13-14 NIV
Jesus is telling us that if we ask in His name, the Father is then glorified in His Son. If we do this, He will answer our prayer.
When we accept Jesus Christ as our savior, He becomes our righteousness. Praying in His name gives us direct access to God the Father. We are honoring Jesus for what He did for us.
The Holy Spirit Helps in Our Prayers to Grow Spiritually
"In the same way, the Spirit helps us in our weakness. We do not know what we ought to pray for, but the Spirit himself intercedes for us through wordless groans. And he who searches our hearts knows the mind of the Spirit, because the Spirit intercedes for God's people in accordance with the will of God." Romans 8:26-27 NIV
How great is it to have God the Holy Spirit supporting us in our prayers. This is another way we can know what to pray for. He will help guide us as we pray.
He takes our muddled speech and cleans it up so God is pleased with it. Many times I'm not sure of what to say or how to say it. Knowing the Holy Spirit is at work should help our confidence as we pray.
When we pray, the Holy Spirit teaches us. This leads to spiritual growth.
Praying Will Give Peace
"Do not be anxious about anything, but in every situation, by prayer and petition, with thanksgiving, present your requests to God. And the peace of God, which transcends all understanding, will guard your hearts and your minds in Christ Jesus." Philippians 4:6-7 NIV
These verses are packed with the power of prayer. We are to go in every situation to God in prayer and let Him know what's going on and requesting His help. This doesn't mean God is not aware of our life but that He wants us to tell Him about it. He wants to be a part of our life.
We need to remember to thank Him at this time so He knows how much we appreciate His help in the past. When we are obedient in prayer, we not only gain spiritual growth but peace beyond anything we've experienced before.
We Need to Believe in Prayer for Spiritual Growth
"If you believe, you will receive whatever you ask for in prayer." Matthew 21:22 NIV
In this passage, Jesus is talking to the disciples. He had just cursed the fig tree because it was fruitless and it died. The disciples were amazed and Jesus told them they could do the same if they believed.
Prayer is powerful but you have to believe it will work. We go to God realizing He has the power to do anything.
Why Does God Answer?
"Because he loves me," says the Lord, "I will rescue him; I will protect him, for he acknowledges my name.
He will call on me, and I will answer him; I will be with him in trouble,
I will deliver him and honor him. With long life I will satisfy him and show him my salvation." Psalm 91:14-16 NIV
This is a beautiful passage, not only to the ear but to the heart. Why does God answer? Because of our love for Him.
We can't truly love God until we know Him. We can't know Him without Jesus Christ. He protects, helps and showers us with blessings because of His Son. Jesus.
This love we have did not come from us but God. It is because He loves us first that we can give it back to Him.
Jesus' Example to Follow
"This, then, is how you should pray "'Our Father in heaven,
hallowed be your name, your kingdom come, your will be done,
on earth as it is in heaven. Give us today our daily bread.
And forgive us our debts, as we have also forgiven our debtors. And lead us not into temptation, but deliver us from the evil one.'" Matthew 6:9-13 NIV
One of the reasons Jesus came to earth is to be our example. This sample prayer shows us the important things we should remember when praying.
First, we should acknowledge who God is, give Him praise and honor and accept His will in our life. Then we thank Him for His provision, because it only comes from Him. Here we ask for provisions for others. We confess our sin and ask for protection from the evil one.
This does not mean we recite this when we pray, it is a guide to how we approach our Lord.
The more we rely on the Lord and talk to Him, the more we will grow spiritually. Study the Lord's prayer to learn more of how we should pray.
We would love to hear from you about your prayer life and growing in the Lord.